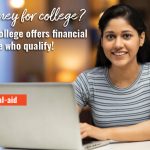 Galveston College's goal is to never let finances stand in the way of student success. In fact, the Galveston College Financial Aid office has helped thousands of students find resources to pursue their educational and professional goals at no cost to them.
The majority of students at Galveston College qualify for financial aid, and the Financial Aid office provides students with information about the types of financial aid available and how to apply for financial assistance.
"Galveston College does not want finances to be the obstacle to students seeking degrees and classes that count toward a bachelor's degree or career training for today's in-demand jobs," said Dr. Myles Shelton, president. "We want students to contact us so we can work with them individually to share information about financial aid options and resources."
Ron Crumedy, associate vice president for student services, said it's important for Galveston College to spread the word about financial aid opportunities.
"There are funds out there, and we want to help students receive the assistance they need," he said. "We have so many scholarships and grants to assist in paying for college. We're here to help future and current students explore their options."
Available Funding
Grants
Grants are awarded to students with financial need and do not have to be repaid unless a student withdraws from school, stops attending, or owes a refund. There are two types of grants awarded by Galveston College—federal grants and state of Texas grants.
Federal Grants
The Federal Pell Grant is awarded only to undergraduate students who have not earned a bachelor's or professional degree. The Pell Grant does not have to be repaid.
The Federal Supplemental Educational Opportunity Grant (FSEOG) is awarded to eligible undergraduate students who show exceptional financial need. The actual amount will vary depending on the availability of funds and other financial aid the student is receiving.
Emergency Grants
The American Rescue Plan (ARP) Act of 2021 established the Higher Education Emergency Relief Fund (HEERF). Galveston College must pay a certain percentage of those funds to current students in the form of emergency financial grants. Students can apply the funds from emergency grants toward emergency costs that arise due to the coronavirus, such as tuition, food, housing, healthcare (including mental healthcare), and childcare.
Texas Grants
The Texas Public Education Grant (TPEG) is a state financial aid program designed to assist students attending state-supported colleges. To be eligible, students must show financial need and make satisfactory academic progress toward their educational goals. The actual amount of the grant will vary depending on the availability of funds at the school, the student's family financial condition, and other financial aid the student is receiving.
The Texas Education Opportunity Grant (TEOG) was established to assist financially needy students at Texas public two-year colleges. The TEOG is awarded to students in their first 30 hours of their college program who have financial needs and have minimum half-time enrollment.
Galveston College also has secured funding from the Texas Higher Education Coordinating Board for the Texas Reskilling Support Program. This program aims to support displaced Texas workers impacted by the COVID-19 pandemic who need to learn new skills or further develop current skills to return to the workforce, as well as Texas students who were previously attending Galveston College for a certificate or degree but have not completed it.
In addition to grants, Texas has a variety of exemptions and waivers. Exemptions are a type of financial assistance that allows some Texas residents to attend a public college or university in Texas without paying tuition or, in some cases, tuition and fees. For more information please check out www.collegeforalltexans.com.
Work-Study Program
The Federal Work-Study Program provides jobs for undergraduate and graduate students with financial needs, allowing them to earn money to help pay for educational expenses.
Scholarships
Thanks to the generosity of the Galveston Island community, Galveston College has one of the most robust scholarship programs of Texas community colleges.
Universal Access
Universal Access Scholarships are provided by the Galveston College Foundation to ensure that every eligible high school graduate–or equivalent, who resides in the Galveston College taxing district has the opportunity to attend college and receive an associate degree or workforce certificate. These students are not eligible for federal or state funding–often because their income exceeds eligibility limits, yet they still need financial assistance to complete their studies and graduate. For information, visit https://gc.edu/universal-access/.
Privately Funded and Institutional Scholarships
Galveston College offers a variety of privately funded and institutional scholarships to graduating high school seniors, transfer students, and currently enrolled students. The criteria for eligibility and the award amount for these scholarships have been developed in cooperation with each scholarship sponsor. For a list of these opportunities and application, visit https://gc.edu/galveston-college-scholarships/.
Emergency Scholarship
The purpose of the Emergency Scholarship is to provide monetary relief to students for unexpected circumstances that may significantly interfere with their ability to attend college. For more information, visit https://gc.edu/emergency-scholarship/.
Military Benefits
Students may be eligible for educational benefits through numerous federal and/or state programs. Student veterans and dependents are encouraged to visit the Veterans Administration education website for the most current information about education benefit programs: https://www.benefits.va.gov/gibill/education_programs.asp.
Loans
Students loans, unlike grants and work-study, are borrowed funds that must be repaid, with interest. Student loans should be considered only after students have exhausted all avenues for free financial aid such as grants and scholarships. Galveston College participates in the William D. Ford Federal Direct Loan Program. Federal Direct Loans include Direct Subsidized and Direct Unsubsidized Loans and Direct PLUS Loans.
Laptop Loan Program
A computer is now required for every class at Galveston College; therefore, a laptop loan program has been established to assist students who need off-campus computing resources. For more information about the laptop loan program, click here: https://gc.edu/laptop-loan-program/.
How to Apply for Financial Aid
To maximize their opportunity to receive financial aid for fall 2021, students should complete the Galveston College enrollment process as soon as possible.
To begin the financial aid process, complete the Free Application for Federal Student Aid (FAFSA®) on a desktop or laptop at https://studentaid.ed.gov/sa/fafsa. The 2021-2022 Free Application for Federal Student Aid (FAFSA) is also available on mobile at the myStudentAid app.
Galveston College's school code is 004972.
Galveston College will use information from the FAFSA to compile a financial aid offer, which may include a combination of grants, loans, and work-study. Remember, federal student aid must be used for school expenses such as tuition, room and board, and books and supplies.
For assistance in completing the FAFSA, please contact the Financial Aid office at Galveston College at (409) 944-1235, visit https://gc.edu/financial-aid/, or email finaid@gc.edu.
For information about scholarships, visit the scholarship websites and contact the Financial Aid office at finaid@gc.edu.
For more information about Galveston College admissions, visit https://gc.edu/steps-to-enroll/, call (409) 944-1230, or email admissions@gc.edu.
To register for classes, visit the Counseling and Advising Center on the first floor of Moody Hall, Galveston College, 4015 Avenue Q, Galveston, Texas, or register online via myGC on the Whitecaps portal at whitecaps.gc.edu.