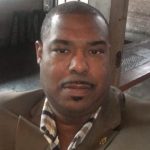 Galveston College Student Success Advisor Martin Crichlow will be featured this week on the national podcast "Careers in Higher Education," discussing what it's like to work as an academic advisor at a community college.
"Careers in Higher Education" (CHE) is a weekly podcast exploring pathways and functional areas for those interested in pursuing a career working at colleges and universities.
Each week features a different higher education professional in a specific area of higher education who shares stories and advice from their professional journeys.
The podcast is scheduled to be released Friday, April 23, at 8 a.m. and can be accessed at https://www.buzzsprout.com/1309945.
Crichlow, originally from Columbus, Ohio, and raised in Phoenix, Arizona, serves as the student success advisor for the Charlie Thomas Family Applied Technology Center at Galveston College.
A lifelong college administrator, he began his student affairs career in residential life as a resident director at Northwest College in Powell, Wyoming. He has served in a variety of student affairs positions within diverse institutions of higher learning (community colleges and universities).
Crichlow's professional skill set focuses on project management, program development, training, advising, recruitment and retention. He possesses more than 22 years of leadership and management experience, in which he has supervised the performance of team members, interceded to resolve problems, and delivered training on improving efficiencies and client services. He is often instrumental in establishing department infrastructure, job descriptions, office policies and cost-saving practices. In addition, he has served in a leadership capacity on regional and national committees for his professional associations.
Crichlow holds a bachelor's degree in Middle Eastern History from Oral Roberts University, where he graduated cum laude, and a Master of Science in Student Affairs in Higher Education Administration from Colorado State University. In addition, he studied abroad at Institute of Touraine (France) and University of Ouagadougou (Burkina Faso) in West Africa.
Crichlow is a member of Alpha Phi Alpha Fraternity, Inc. He enjoys spending quality time with his 16-year-old son Reece. His hobbies include travel, spending time at the beach and the search for the perfect steak and barbecue ribs.